Fire Barrier Fabric - Industries & Uses

Customers that rely upon Sandel fabric in their products serve diverse industries including: public transportation, aviation, construction, insulation, corrections, commercial furniture, healthcare and hospitals, hospitality and lodging, universities, marine, defense and military, and welding/manufacturing. Sandel fabric is specified by leading institutions including The London Underground in public transportation seating and by the US military for smoke and fire curtain applications as well as fire blankets.
Sandel fabric can be used on its own or in combination with other materials in direct fire barrier applications such as fire curtains, smoke curtains, welding curtains, and fire blankets. These product strategies establish a direct barrier between potential flame sources and human beings or sensitive equipment. This approach is also used in fabricating tent liner, tarpaulin, and cubicle applications. When used as protective curtains to prevent Foreign Object Damage (FOD), Sandel fabric adds the equally important fire barrier characteristics.
Upholstered Furniture and Seating
---
Another expansive category of applications involves upholstered furniture and seating. Sandel fabric is installed as a shield between the potential flame source and the flammable foam and other fabric components internal to the structure. In most cases, the presence of the Sandel fire barrier material enables use of any cover fabric. As an internal component in these end use products, the Sandel fabric is referred to as an "interliner".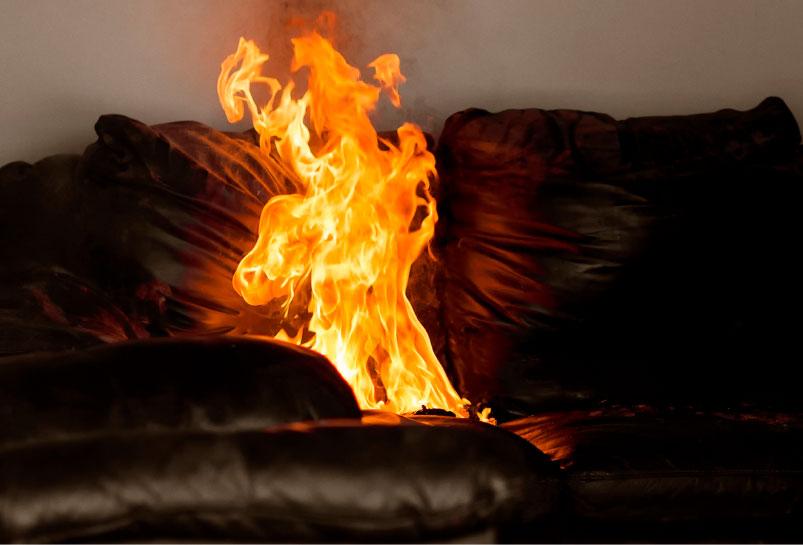 Both Sandel 14502 and Sandel 60502 have passed the TB117-2013 Barrier Materials Test to meet new US Federal Standards for Upholstered Furniture.


Matresses and Pillows
---
Sandel fabric is extensively used in the corrections and institutional industries as well as in military environments, as ticking and cover materials for mattresses and pillows.